The Video Directory Tab allows you to upload video content and make it searchable and browsable by category.
This Tab is listed under "Media" in the Manage Tabs section.
To add a video, click "+Add Video"
Name the video so users can easily locate it.
Upload a video file from your desktop by selecting "Upload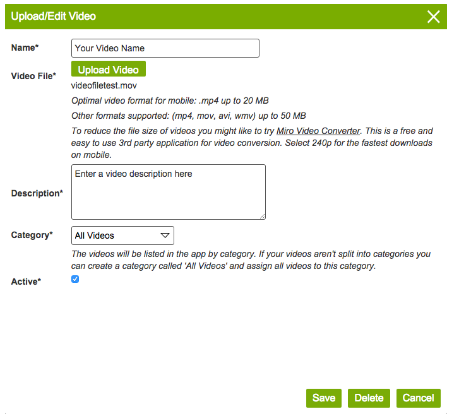 The optimal video format for mobile is .mp4 and up to 20 MB.
Other supported video formats are:
mp4, mov, avi, wmv of up to 50 MB.
To reduce the file size of videos, you may like to try Miro Video Converter »
This is a free and easy to use 3rd party application for video conversion. Select 240p for the fastest downloads on mobile.
Loading times may vary depending on the file size.
Add a video description and choose which category you want it in.
The videos will be listed in the App by category.
To assign all videos to the same category, create a category called "All Videos".
To create a new video category, select "++New Category++" from the dropdown menu and enter a name for the category.
Click Save and repeat that process for all of your video content.
Hide a video in the App by un-ticking the "Active" checkbox and simple re-tick it to display it again.
To completely delete a video, click on it, select "Delete" and confirm.