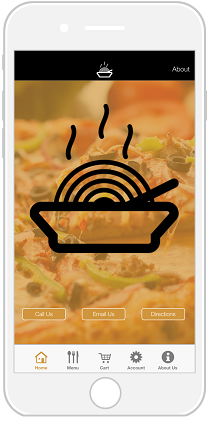 Your Apps homepage is a chance to really push your brand to your customers, as well as provide easy access to important features in your App.
In the Manage Tabs section, under "Basics", you'll find the Home Tab. This Tab is automatically added to your App when you first create it.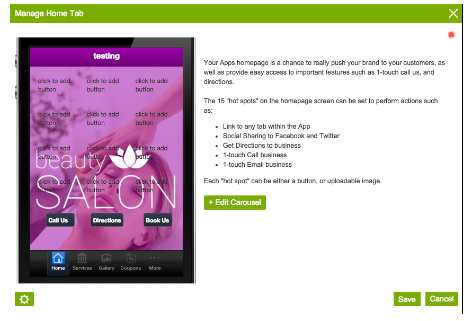 ---
Managing Tab
There are two steps for managing and editing your Tab. When you hover over the Tab Menu, you are given two options, Edit Content and Tab Settings.
Edit Content - Allows you to add and edit the Tab's content.
Tab Settings - Allows you to manage the Tab Title and App Icon.
Homepage Buttons
There are 15 "hotspots" that can be set to perform actions such as:
Link to any tab within the App

Social Sharing to Facebook and Twitter

Directions to your business

1-touch Calling and Emailing
Each "hotspot" can be a button or image.
To change a default button on the homepage, click on it, choose the type from Button Type the dropdown menu, change the button text if required.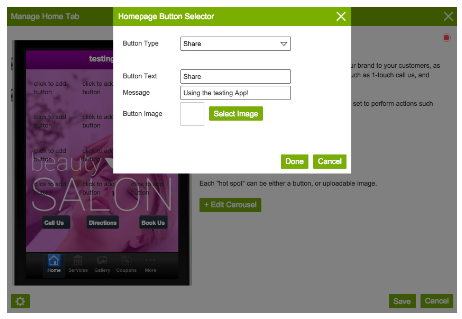 The "Tab Link" option will link to any other Tab in your App, just choose which one from the "Link Tab" dropdown menu.
If you want to use an image or icon as a button, click "Select Image" and upload one from your desktop.
Click "Done" to save the button.
Create a new button by selecting one of the hotspots. Choose the type from the dropdown menu, change the button text and add an image if required.
Click "Done" to save it.
Remove a button by selecting it, and choosing "None" from the "Button Type" dropdown menu and "Save".
---
Homepage Carousel
The "Edit Carousel" section allows you to add images to your home page carousel.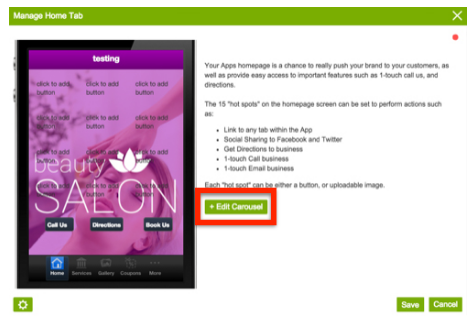 Homepage carousel images will be the full width of the device screen and ⅔'s of the height, so landscape perspective images will work best.
These images will show at the bottom of your homepage and will change every few seconds.